Get ready to get Juiced-Up! AF
Do not talk about it, be about it!
Get ready to embark on a journey no other Juice Bar has ever taken before. Emerge yourself in the world of fitness, nutrition, workouts, well-being, and DELICIOUS natural products of Juiced Up! AF.
At Juiced-Up! AF, we are passionate about inspiring others to achieve the best version of themselves, not only through fitness and nutrition but through empowerment, advocacy, and financial success. We started with a mobile juice bar and one simple mission: provide the world with FACTS, nutritional knowledge, and the most delicious fruit and power food combinations, aiming towards a healthier lifestyle for everybody.
We are dedicated to delivering the best quality high protein smoothies, juices, and bowls, sharing with our clients the ultimate tips and nutritional products to achieve sustainable muscle growth, recovery, and body maintenance.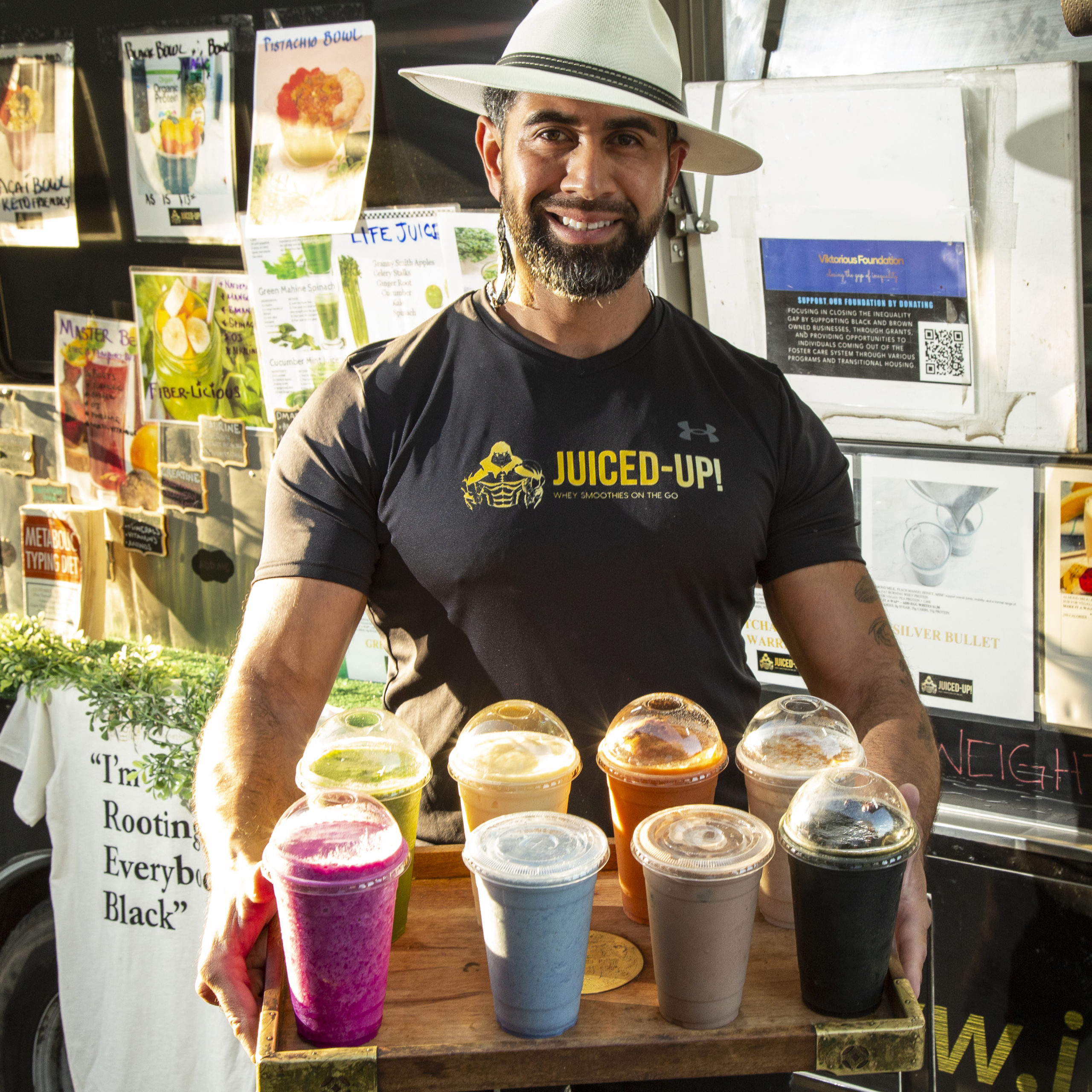 Our core values are the compass that leads and inspire us in everything we do, nurturing our passion and purpose:
Be excellent in what you do
Embrace a drive change
Make a flexible plan
Educate, inspire and motivate
At Juiced-Up! AF, we believe that our bodies and our earth are sacred, and we strive to worship them every day. Each product we deliver is 100% biodegradable, prepared with the highest quality, Eco-Friendly, fresh, and naturally sourced ingredients and supplements.
If you are looking for the best organic, keto, vegan, high protein smoothies and fresh juices in LA, you know where to find them. Look for us in our top locations near Baldwin Hills scenic overlook, Culver City Stairs and and throughout Los Angeles. Stop by our juice bar and leave Juiced-Up! AF with our one-of-a-kind Fitness Smoothies, Pressed Detox Juices, Nutritional Protein Bowls, and much more!
If you are having a special occasion, or are in the mood to celebrate, call Juiced-Up! AF for the best healthy juice catering in all LA, and receive the most delicious, honest and high-quality products, along with the most attentive customer service.
What you see is what you get. We're consistently looking for new and innovative health products to add to our menu, choosing our products carefully and crafting masterful blends. Matcha, Spirulina, Pitaya, Acai, Protein shakes, Dragon Fruit, Strawberry, Veggie Milks, Peanut and Almond Butter, Granola, Probiotics, Ginger, Coconut, Berries, Activated charcoal… the list goes on and on. Check out our menu to discover Juiced-Up! AF's unique creations!